Green and Nature-Based Solutions for Climate Change-Resilient Waste Infrastructure
LIFE GREEN ADAPT aims to increase the resilience of EU waste infrastructures against climate change. This will be achieved by demonstrating the potential of blue-green infrastructures (BGI) and ecosystem-based approaches to manage flush flooding and run-off caused by heavy rainfall and prevent fires and explosions caused by droughts and unusual heatwaves.
The project expects to have a range of results and impacts. Notably, bio-technosoils made of wastes from the landfill will be used to stabilise and recover soil by improving its structure and increase soil quality by regulating nutrient supply. New treatment wetlands (TW) will be engineered to address polluted landfill leachate and run-off, delivering water with a 95% reduction in heavy metals and a 99% reduction in ammonium and DBO5 compounds.  Finally, an industrial demonstration site will be used to validate the potential of the BGI and ecosystem-based approaches and verify their performance.
Timeline of Implementation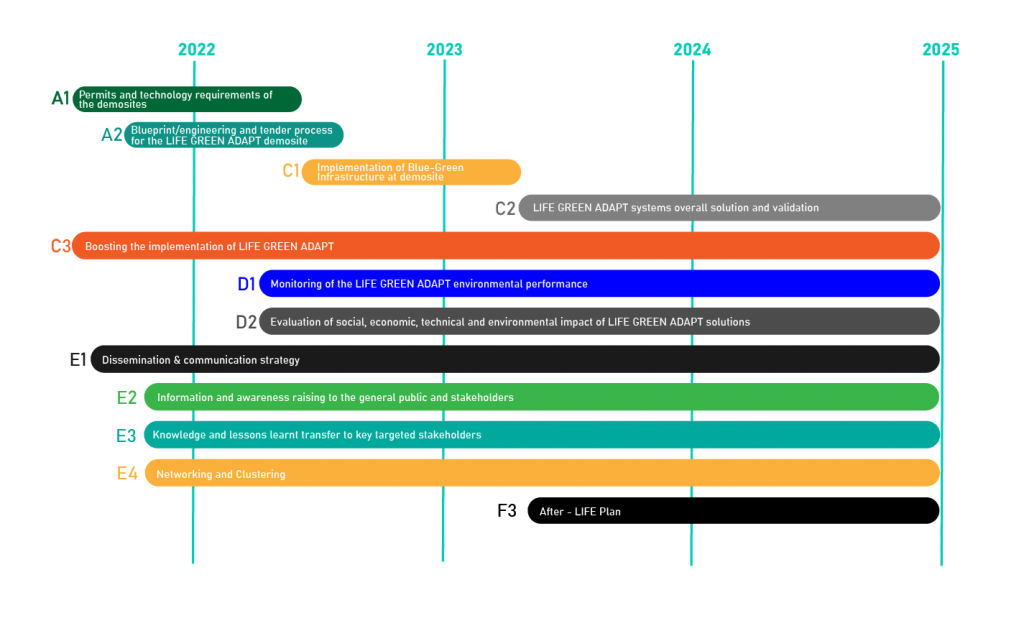 50% Increase
of Landfill Infrastructure Life Span
Increased Infrastructure Life Span by 50%
1,065m³ / year
of polluted water spill overs avoided
Polluted water spill overs avoided, increasing resilience to flooding
21,300m³ / year
of water available to natural watercourses
More water available to natural watercourses, improving resilience to droughts
Sign up to our newsletter to receive the latest LIFE GREEN ADAPT updates.